Dear Friend,
ALL Picks From The Past Six Years!

2007

9/9/2007
NY Giants +6.5 vs. Dallas
Carolina +1.5 vs. St. Louis

9/16/2007
Tennessee +7 vs. Indianapolis
Houston +6.5 vs. Carolina
Washington +7 vs. Philadelphia


9/23/2007
Baltimore -7.5 vs. Arizona
Tampa Bay -3.5 vs. St. Louis
Washington -3.5 vs. NY Giants

9/30/2007
NONE

10/7/2007
Tennessee -7.5 vs. Atlanta
Miami +5 vs. Houston
Washington -3.5 vs. Detroit
NY Giants -3.5 vs. NY Jets

10/14/2007
Minnesota +4.5 vs. Chicago
Cleveland -4 vs. Miami

10/21/2007
Washington -8 vs. Arizona
New Orleans -8 vs. Atlanta
Dallas -9 vs. Minnesota
NY Giants -9 vs. San Francisco
Seattle -8 vs. St. Louis

10/28/2007
San Diego -9 vs. Houston
Oakland +7 vs. Tennessee

11/4/2007
Tampa Bay -3.5 vs. Arizona
Tennessee -3.5 vs. Carolina

11/11/2007
Jacksonville +5 vs. Tennessee
Carolina -3.5 vs. Atlanta
Arizona -2 vs. Detroit

11/18/2007
Green Bay -9.5 vs. Carolina
Oakland +5 vs. Minnesota
New Orleans +1.5 vs. Houston

11/25/2007
Jacksonville -8.5 vs. Buffalo
San Diego -8 vs. Baltimore
Oakland +5 vs. Kansas City
Minnesota +7.5 vs. NY Giants

12/2/2007
Cincinnati +7 vs. Pittsburgh
Minnesota -4 vs. Detroit
Tennessee -3.5 vs. Houston
New Orleans -3 vs. Tampa Bay
NY Jets +1.5 vs. Miami

12/9/2007
Arizona +7 vs. Seattle
Kansas City +7 vs. Denver

12/16/2007
San Diego -9 vs. Detroit
Washington +4.5 vs. NY Giants
New Orleans -3.5 vs. Arizona
Carolina +7 vs. Seattle

12/23/2007
Arizona -10 vs. Atlanta
Tennessee -8.5 vs. NY Jets
Kansas City +5 vs. Detroit
Houston +6.5 vs. Indianapolis

12/30/2007
Philadelphia -8 vs. Buffalo
Washington -9 vs. Dallas

1/11/2008
Green Bay -7.5 vs. Seattle


2007 Totals
33 Wins
16 Losses
67% Win Rate



---


2008

9/7
Philadelphia - 8.5 vs. St. Louis
San Diego -9 vs. Carolina
Seattle +1.5 vs. Buffalo

9/14
Atlanta +7 vs. Tamps Bay
Philadelphia +6.5 vs. Dallas
San Diego +1.5 vs. Denver

9/21
Detroit +4.5 vs. San Francisco
Jacksonville +4.5 vs. Indianapolis

9/28
Houston +7 vs. Jacksonville
New Orleans -4 vs. San Francisco
Dallas -10.5 vs. Washington
Green Bay +1.5 vs. Tampa Bay

10/5
Carolina -9.5 vs. Kansas City
Seattle +7 vs. NY Giants
Buffalo +1.5 vs. Arizona

10/12
NY Jets -9.5 vs. Cincinnati
New England +5 vs. San Diego
Oakland +6.5 vs. New Orleans
Tampa Bay -2 vs. Carolina
Green Bay +1.5 vs. Seattle

10/19
Houston -9.5 vs. Detroit
Cleveland +7.5 vs. Washington
St. Louis +7 vs. Dallas

10/26
Baltimore -8 vs. Oakland
Philadelphia -9 vs. Atlanta
New England -7 vs. St. Louis
Houston -8.5 vs. Cincinnati
Arizona +5 vs. Carolina
Cleveland +7 vs. Jacksonville
Detroit +7.5 vs. Washington
Dallas -2 vs. Tampa Bay

11/2
NY Giants -8.5 vs. Dallas
NY Jets +5 vs. Buffalo
Tennessee -3 vs. Green Bay
Denver -3.5 vs. Miami
Cleveland -2 vs Baltimore

11/9
NY Jets -9 vs. St. Louis
Seattle +7.5 vs. Miami

11/16
Baltimore +7 vs. NY Giants
San Diego +5 vs. Pittsburgh

11/23
Dallas -9.5 vs. San Francisco
Denver -9 vs. Oakland

11/30
Tampa Bay -4.5 vs. New Orleans
Cincinnati +7 vs. Baltimore

12/7
Denver -9 vs. Kansas City
Jacksonville +7 vs. Chicago

12/14
NY Jets -7.5 vs. Buffalo
Carolina -8 vs. Denver

12/21
New England -8 vs. Arizona
Detroit +7 vs. New Orleans
Oakland +7 vs. Houston

12/28
San Diego -8 vs. Denver
NY Giants +7 vs. Minnesota
Seattle +7 vs. Arizona
Dallas +1.5 vs. Philadelphia


2008 Totals
30 Wins
23 Losses
57% Win Rate


Click Here to See All
Picks From 2003-2006


I couldn't believe it, but all
the data was right there in front of my eyes. Could it really be that simple?
It took me a minute for it all to sink in, and then I cheered. I had done it!
I had discovered a ridiculously simple way to profit from NFL Football, and the secret to it all was right there on my laptop.
I'm going to give this to you straight, so I don't waste your time or mine. I've found a remarkably consistent and profitable NFL Football Betting System that has achieved a
strike rate of 60%
over the past several years, betting on the spread in NFL football.
A bettor who started with a bank of $2000 and bet only 5% of his bank per game
would have over $18,000
after using this system for only four years. Over 800% profit in four years, using a safe and proven system? I'd say that's pretty great, wouldn't you?
And it's easy! You don't need special information, and determining which teams to bet on takes
about 5 minutes each week
. Everyone has five minutes to spare!
What Do I Know About Sports Betting?
I realize that you may be skeptical of my ability to make profitable sports picks, and I can understand that. After all, you don't know me from anyone else, and it's easy to get scammed on the internet.
Fortunately, there is a way I can at least prove that I know what I'm talking about when it comes to sports betting. I post
free sports picks
every day at my site
WhatToBetOn.com
. These are my low-level, most basic picks, and they still are consistently profitable. I've only had two losing months in over a year! Check them out, if you'd like, and then come back.
I won't be posting many of the picks from this system on my free site, so you'll have to get this book if you want to take advantage of this easy-to-use method.
Click Here if You'd Like To Download This System Right Now!
If you'd like to learn more about how I discovered it, read on.....
Discovered Completely By Accident!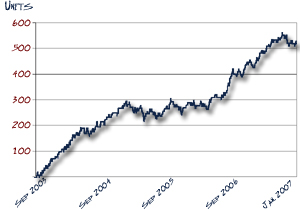 I've tried for years to find a suitable NFL system, and never found a method that worked well across the board. The parity in the NFL is enormous, making it extremely difficult to find a consistently profitable betting opportunity.
Then this past summer, I was working with my NFL data, trying to determine if there was a profitable arbitrage opportunity between the moneyline and the spread.
My hypothesis failed. There wasn't a profitable connection there, but I had noticed something while working with the data. The moneyline odds weren't always consistent with the spread. In fact, there were major discrepancies throughout several years of data.
"This could be what I've been searching for"
, I thought! So I parsed the data, linking the moneyline odds with the spread, and determining the rate at which the favored team and underdog beat the spread.
The results were astounding!
When all the data was compiled, there were obvious patterns within the data. Under certain circumstances, the favored team or the underdog had a spread-beating rate
as high as 70%!
The patterns held true across the board, from month to month, and year to year.
This was it - the secret I had been searching for!
Extremely Simple Criteria
After much research, I was able to boil it all down to very simple criteria, with a consistent
cumulative win rate of about 60%!
Plenty high to make a nice profit, especially if you use the right sportsbooks.
Now, I know all too well that past performance doesn't necessarily indicate future success. It's impossible to predict the future, no matter how much data you have.
The great thing about this system is that it has been consistently profitable for years; as far back as my data goes. The lowest strike rate in any year was 2004, when it achieved a strike rate of 57%, still profitable. Anyone who was betting on the NFL can tell you, it was a bad year for football betting across the board.
Click Here
to see all of the bets that this system has produced since 2003, and how well they performed.
Why 80% Strike Rates Are Impossible
You've probably seen system on the internet claiming strike rates of 80% or more. I probably don't have to tell you that these systems are either:
Complete scams.

Betting on huge favorites with odds around -600, where one loss can wipe out weeks of gains, and you have to bet huge money to make meager profits.

Basing their strike rate on just a few weeks of picks. Anyone can hit a bunch of winners in a short period of time - This system has done it plenty of times (We had a week last fall where it went 6-1). No one can pick spread winners with an 80% strike rate over several seasons, or even over one season. It's simply impossible!
As anyone who bets for a living will tell you, it's nearly impossible to do better than a 60% strike rate in the long term, and if you find such a system, you've basically struck gold!
This is what you've been waiting for!
An easy system that will bring you profits month after month. What will you do with all the extra money you'll be bringing in every month? Will you buy a new car, travel the world, or save it so you can buy a new house?
This simple NFL betting system is perfect for everyone!
So How Much Does It Cost?
Here's a fact for you.
Most betting systems will charge you well over $100 for access to their "secrets".
Sometimes they'll try to charge you that much
every month
! If they can show you how you can quickly make that $100 back, plus a large profit, that's great, but how many systems have you ever seen that actually do that?
I've designed this system, so that anyone, from a novice to an pro, can use it without fail, and I've priced it so that anyone can afford it.
Your total investment in this amazing system is a mere $47.97. This book is an absolute steal! With just one winning bet, you'll make back every dollar you spent on the book, and already be in profit. What other betting system can claim that?
This is not one of those "betting guides" that has 50 pages of filler to make the book seem better than it is. I won't waste your time with a history of sports betting or pages of affiliate links. The book is very short because it only tells you exactly what you need to know. I tell you how I developed the system, how to choose which teams to bet on, and then it gives some examples. It's only a few pages, but it's extremely valuable info, as you can probably imagine.
What's In It For Me?
You're probably wondering why I'm practically
giving away
this book, and I don't blame you. Why wouldn't I just want to keep the secrets to myself?
Well for one thing, even if thousands of people used this exact system all on the same match, it wouldn't affect the ability to use it, and profit with it. If this system's potential was diminished by sharing it with others, you can bet I would keep it under lock and key!
Secondly, the book is in electronic format. Since I don't need to carry any inventory, I can charge much less, and deliver the book to you immediately! It works out perfectly for both of us!
Unconditional, No-Questions-Asked, Money-Back Guarantee!
To sweeten the deal even further, I've included a no-questions-asked, 8-week money-back guarantee
! I am so certain that you'll find this system to be everything I said it was and more, I'm willing to give you a full and immediate refund, for any reason! Despite the fact that the book is ridiculously inexpensive, I want you to be
completely satisfied
with your purchase, and if you're not, I don't want you to pay!
As of this writing, no one has ever requested a refund
. What does that tell you?
This is a no-lose situation!
Start Making Money Today!
It's incredibly simple to get started right away!
Click Here
to get immediate access to The NFL Football Betting System, and find out exactly how you can use this powerful football betting method to your advantage.
Only 2% of bettors ever turn a profit from gambling in the long run. Are you ready to join their ranks? Are you ready to start making big money from sports betting?
Order Now!
P.S. -
It's truly hard for me to understand why
everyone
who reads this page doesn't purchase the book. It's priced ridiculously low, there's a no-questions-asked money-back guarantee, and anyone who reads it can
start profiting immediately
, just by following the simple steps!
Opportunities like this don't come around every day. Don't miss out!
Get this book now!